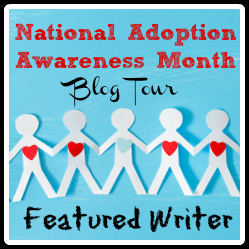 Open Adoption....the term has been around now for a few years, especially in private/infant adoptions. There is definitely wide range of how open or closed an adoption can be.
Open Adoptions (OA) in foster care are still new to the scene for many foster care adoptions. As with any OA, there are many different levels of openness. This is our story.
We have adopted two different sibling groups. Smarty Pants, Sweet Thing, and Drama Mama have been with us for almost 8 years now, adopted for 4.5 years. Their case was an odd one from the beginning. Their bio mom, I'll call her P, did not work her case plan. She never showed up to do visits. She pretty much walked away for roughly 20 months. Their bio dad, S, was in jail, and then deported. We had a little bit of communication with him, but it was few and far between. When P showed back up on to the scene, it was b/c Chunky Monkey had been removed from her and later placed with us. She decided then to try to intervene in the case, but was not allowed any type of visitation with the kids. We passed along some of the gifts that were appropriate and did share most of the messages/emails/letters that were from her for the kids. We've kept records of everything, so one day when they are older, they can look through all the court paperwork, jail records, etc.
When P realized she had no chance of getting the kids back, she knew she had only one option to keep any communication open with them. She asked for an open adoption if she were to sign over her rights and were to testify on our behalf in the contested adoption with S.
Our lawyer advised us not to do so, mostly because our case against her was strong, her abandonment easy to prove. However, we could not in good conscience do that.
We agreed to the OA which included a minimum of 2 visits per year, 2 hours long each, siblings included, and dependent on criminal behavior, etc. None of this was to be enforced until the adoption was finalized. As it turned out, it was just over 4 years between the last time the kids and P had seen each other and their first visit. SP had just turned 5 when he came into care, ST was almost 4, and DM was 2.5. You can imagine at 9, 8, and almost 7, they were drastically different children! We'd given pictures to P throughout that time and given her updates, but it was still hard for her to realize these were the same kids. In her mind, they were still 5, 3, and 2.
Our first visit went well. We went to an arcade type place (chuck e cheese on steroids). It was good in a lot of ways b/c the kids weren't forced to just sit and stare at P. It was hard because they were off wanting to play games, so they really didn't get to interact a lot. Still, I think it was the best for the kids. We did not have another visit until later in the year. We had a birthday party for their 1/2 sister and a movie. Oh and we went to have their pictures taken. P had pics taken with all 6 of her kids, the first and last time they were all together again. We've got copies of all the siblings together, which are very treasured with all 5 of my kids. Again, not a lot of interaction time with the movie in the middle, but it was easier on the kids. Both of those visits went WELL past the 2 hours allotted time. Each was more along the lines of 6 hours! The kids had some minor tears and fallouts, but mostly all went well. P probably had the worst reactions. I do not think she was prepared for the kids to be standoffish with her. I think in her mind, they would come running to her, all hugs and kisses, calling her mommy, and just hanging on her every word. This has never happened. I definitely think there is to this day a lot of resentment over that fact.
We did a few more visits the next year, all exceeding the 2 hours. When we decide to move to PR, we knew that P would be unhappy about that. It would definitely suspend the face to face visits with her. The agreement did state that if we were to move, phone visits could replace a face to face visit.
From the time we got Chunky Monkey through this time (a time span of about 3 years), we had frequent email communication with P. For awhile it was almost every day! It was a bit overwhelming in a lot of ways. P had a hard time accepting the fact that we added on to the kids names and that they preferred to use those names. She would often write emails with things like "Tell MY kids that I love them," always capitalizing the MY part, very possessive. A lot of we overlooked, many things we did call her on. We were able to have frequent contact with Macho Man, Chunky Monkey, and La Gordita, the 3 1/2 siblings. They were at our house at least 1-2 weekends a month. They were very much a part of our family. I saw P frequently due to this, picking up and dropping off the kids. I know she was a little bummed that I never brought SP, ST, or DM with me for those times, but quite honestly, they never wanted to come!
A few months prior to moving, spring of 2011, things for P were falling apart. She and her boyfriend (father of her younger 3 children) were having relationship problems. Email communication became less frequent. She decided to send the boys to Mexico with their paternal grandparents. That was the last time we saw the boys. She still had LG with her for the next year, but we only got to see her twice.
Once we moved, we offered P to come visit, to call us, to Skype with us, whatever she was comfortable with. We were very worried about her when months would go by with no word from her. We would call and get no answer. Our emails would go unanswered. She'd send once now and then, all very rude and accusatory that we were keeping the kids from her. In EVERY email, we offered to skype, call, mail letters, again, whatever worked best for her. The last time we heard from her was on Feb 2, 2013. She sent a short email on Sweet Thing's birthday, promising to come visit. She has not responded to any of our emails since that time.
At this point, we are no longer trying to track her down. Our email is the same. Our phone number is the same. She knows how to reach us. The kids know we have tried to reach her. At this point, they really don't care that they don't hear from her. Their only frustration is that the siblings (all 3 now) are in Mexico, and she has refused to give us any way to contact them.
We have consulted a lawyer who agrees that the OA contract we have is voided by her lack of communication. We don't know where she is living to send her any type of legal notice, but apparently we aren't required to do so. Any future communication, even once we move back to the states, is totally dependent on our willingness to do so. Should she take us to court to try to enforce it, she would lose.
As for S, their bio father, he is in Mexico, to our knowledge. We have sent him emails and pics at least once every 2-3 months. We don't often hear back from him. His sister will email once in awhile and last year sent a package with gifts for all 5 of our kids. One day we would like to go visit them, but we are disappointed in S's lack of communication as well. We have no legally binding agreement with him, but still feel he deserves to know about the kids.
Then we have Goofy Girl and La Loquita's bio parents. There is really very little to say regarding them at this point. We did sign an OA agreement with G, their bio mom. It was pretty much the exact same thing we had with P. We however, have had pretty much no communication with her since that day. She refused to give an address or any contact information because she was pregnant at that time. She was convinced we would try to 'steal another of her children' and so she didn't want DCS to know where she was. We got one phone call from her, nearly a year after that day, inviting us to the little girl's birthday. She left a voicemail, but when Papa Loco tried to call her back, there was no answer. He left our number again and asked for her to please contact us. She has not to this day, 4 years later. GG and LL really don't seem to care at this point. GG remembers her, but barely. LL was only about 18 mos old the last time she saw her. Both girl have been with us nearly their entire lives, so they really don't see her as 'mom' in their lives. They both know that they grew in G's belly and that they came to live with us b/c she made some bad choices and couldn't keep them safe.
Their bio dad L, has never had anything to do with the girls. We have never had any communication with him, and quite honestly really question if he is the father of both girls. LL, yes, likely. GG, I am doubtful.
As it stands with both sets of kids, our open adoptions are more closed than open at this point. We wish we had more communication, but the kids are okay with how things are.
I have found 3 of the 4 bio parents on facebook, with a few pictures open to the public. I have copied the information that I have found and will keep it for the kids. I try to keep tabs and check in once a month or so to see if there is anything new.
As we are approaching the teenage years with SP, ST, and soon, DM, I wonder how things might change. At this point, none of them want anything to do with their bio family. They are very happy and secure in their life with Papa Loco and I. This, we know, is not true for all adoptees. We also know this could all change the older they get.
We want the kids to know, regardless, that we have always wanted the best from them. This means having access to their biological family. We want them to know where they started. What their bios have gone through. We want them to know that they were loved, even when they couldn't/wouldn't keep them safe.
I know Open Adoptions have come a long way in foster care. In some cases, children are not safe to have continued contact with their bio families. It is definitely not the same type of OA's that many of my friends have who have adopted infants through voluntarily placed adoptions. There are as many different scenarios as there are families involved.
I never thought I'd wish for their bio parents to be more involved, but now that we are at a place where there is such little communication, I do. I pray that the kids are always confident that we did the best we could.
Please feel free to ask any questions or leave any comments regarding Open Adoptions from foster care! I'd love to hear from you!
Make sure to read the other blogs in the blog hop! Register to win a $60 prize as well!! Also don't forget to check out a special project put together by several fostermamas!
Welcome To The Roller Coaster
!
a Rafflecopter giveaway